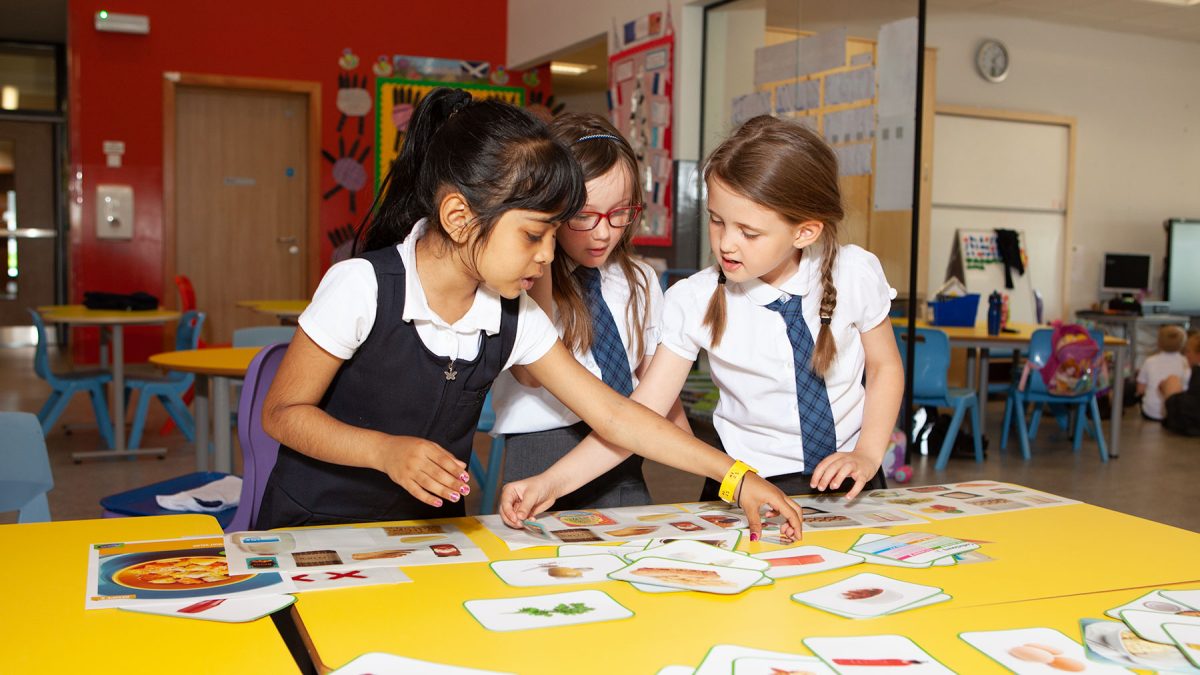 What Do We Do Next With Our Cooking Skills?
About this Guide
This First Level guide will help you to create activities around the wellbeing indicator of Achieving using the Food and Health section of the Health and Wellbeing curriculum.
Suggested HWB Experiences & Outcomes
HWB 1-20a

I can describe some of the kinds of work that people do and I am finding out about the wider world of work.
HWB 1-30b

I experience a sense of enjoyment and achievement when preparing simple healthy foods and drinks.
Suggested Learning Intentions
To develop a range of practical food preparation and cooking skills.
To recognise that preparing and cooking simple healthy foods and drinks can be a fun and enjoyable experience.
Suggested Success Criteria (I Can…)
HWB 1-30b

Demonstrate a range of simple practical and problem-solving skills when preparing and cooking food.
HWB 1-30b

Demonstrate a positive attitude towards preparing, cooking and tasting different healthy food and drink.
HWB 1-20a

Discuss my own and others' skills and abilities when preparing simple healthy foods.
Suggested Learning Experiences
Engage in a range of practical food preparation and cooking activities to develop fine motor skills when using cooking utensils.
Practical skills development – measuring, pouring, mixing, kneading, shaping, spreading, cutting, sieving, juicing, mashing, grating, brushing, arranging, slicing, tearing, bridge and claw cutting techniques.
Select and prepare ingredients to make a simple dish eg a bowl of soup.
Engage in conversations regarding the choosing, purchasing, and preparation of a variety of food.
Identify occasions when they could eat the foods they have prepared.
Discuss how they feel after having produced good, healthy food with and for others.
Encourage the children to drink water freely throughout the day.
Set up a competition where everyone in the room has to drink a certain amount of water before break, after lunch and before going home.
Create a set of experiments to design some delicious new flavours for their water bottles eg try adding a combination of squeeze of lemon, a drop of mint, or a handful of frozen cherries to the mix.
Invite a local/professional chef eg, http://www.chefsatschool.org/ to be involved in teaching practical food skills and to talk about their job and the skills and qualities required to be successful in what they do.
Organise an open day where parents can come and take part in practical food activities and sample food that has been prepared by the children. Children could take on the role of the main organisers.
Enterprise – pupils could make food to be sold around the school and/or create a healthy recipe book for sale to parents. Take part in local and national food projects to raise awareness of issues related to sustainability, locally sourced produce etc.
Create and tend to own vegetable/herb garden, to allow children to gain a sense of achievement in using ingredients they have grown themselves.
Collaborative Learning – work in small groups to prepare a simple dish – each child could be allocated a different role/responsibility. Evaluate how successful they were at working as a team.
Suggested Cross-Curricular Links
SCN 1-12b

Investigate how tastes can be altered during the cooking process eg, adding herbs/spices. Consider the benefits of adding herbs to flavour food rather than salt.
MNU 1-01a

MNU 1-07a

MNU 1-10a

MNU 1-11a

Estimate, share, time, measure, sort ingredients to follow simple recipes.
TCH 1-04b

Create a short film clip about how to prepare and follow a simple recipe/make a video recipe book.
TCH 1-11a

Problem-solving challenges eg, consider from a range of different ingredients, how they could be used.
LIT 1-26a

Write up the steps taken to prepare a simple dish/snack/meal.
Suggested Word Bank
recipe
cook
taste
touch
smell
safe
prepare
enjoy
clean
equipment
select
measure
pleasure
share
practical
skills
problem-solving
purchase
achievement
ingredients