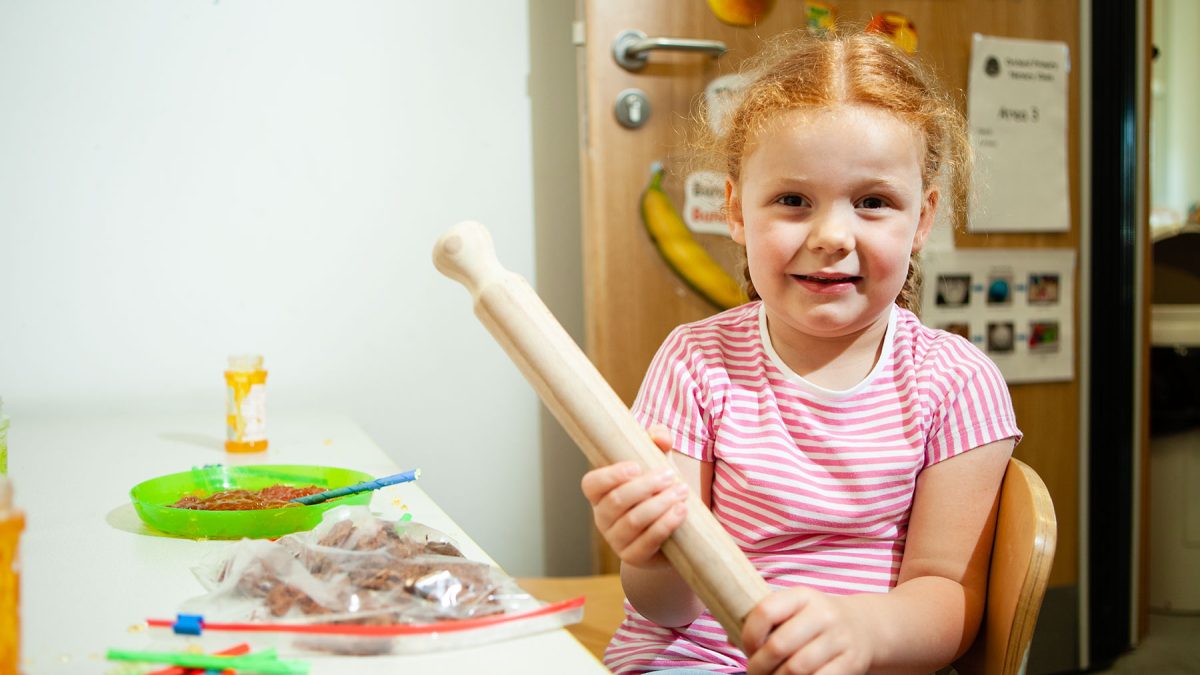 The start of our Healthy Food Journey
About this Guide
This Early Level guide will help you to create activities around the wellbeing indicator of Healthy using the Food and Health section of the Health and Wellbeing curriculum.
Suggested HWB Experiences & Outcomes
HWB 0-30a

Together we enjoy handling, tasting, talking and learning about different foods, discovering ways in which eating and drinking may help us to grow and keep healthy.
HWB 0-32a

I know that people need different kinds of food to keep them healthy.
Suggested Learning Intentions
To begin to understand that we need to eat different foods to stay healthy.
Suggested Success Criteria (I Can…)
HWB 0-32a

Identify some foods that we should eat lots of and less of to be healthy.
HWB 0-30a

Select and prepare a simple healthy snack, with support.
Suggested Learning Experiences
Make different snacks with fruit/veg as the basis to reinforce how fruit can be enjoyed in different ways eg, fruit smoothie, fruit kebabs, fruit monsters, finger foods eg, carrot sticks/celery/cumber and dips.
Select healthy foods from a shopping list.
Plan a visit to the supermarket and buy healthy snacks for a Teddy Bear's Picnic.
Investigate different colours of fruit and veg – create a fruit and veg rainbow. Reinforce that it is good to have lots of different colours of fruit on the plate.
Choose from a selection of foods ones we should eat more of and ones we should eat less of to keep us healthy – use Eatwell Guide as a visual aid to allow children to see the different sizes of the food groups and relate this to 'lots of' and 'less of' foods and drinks.
Encourage children to choose and prepare own healthy foods for consumption at snack table/lunchtime. Create picture cards for healthy snack choices that could be used to plan snack/lunch.
Food group activities – Match and sort foods into the correct sections of the Eatwell Guide.
Encourage the children to add fresh fruit to their drinking water to give it more flavour.
Iced water is a terrific thirst quencher. Encourage the children to experiment with ice cubes and find out what makes an ice cube taste interesting.
Set up a simple chart to encourage the children to get into a routine for brushing their teeth twice a day. This can be recorded in class.
Use puppets to let the children practise tooth brushing as often as they want to.
Talk to the children about the different jobs that teeth do. Thinking about teeth as very special tools that help with eating might encourage brushing.
Suggested Cross-Curricular Links
MNU 0-2a

MNU 0-11a

MNU 0-16a

MNU 0-20b

Matching, sorting and counting activities with fruit and veg to reinforce the '5-a-day' message.
EXA 0-13a

EXA 0-14a

Role-play making a healthy snack for different people.
LIT 0-21b

Create a healthy snacks recipe book to take home to encourage parents to provide healthy snacks. This may be based around the children's favourite snacks they have tried at home as well as school.
EXA 0-2a

Make pictures or a collage of healthy foods from magazine cut outs. Make a fruit display using different types and colours of fruits eg, fruit dyeing; fruit printing.
Suggested Word Bank
Healthy
Lots
Less
Bones
Choose
Fruit
Vegetables
Nutritious
Eatwell Guide
Brushing
Teeth
Daily
Front
Back
Tongue
Flavour