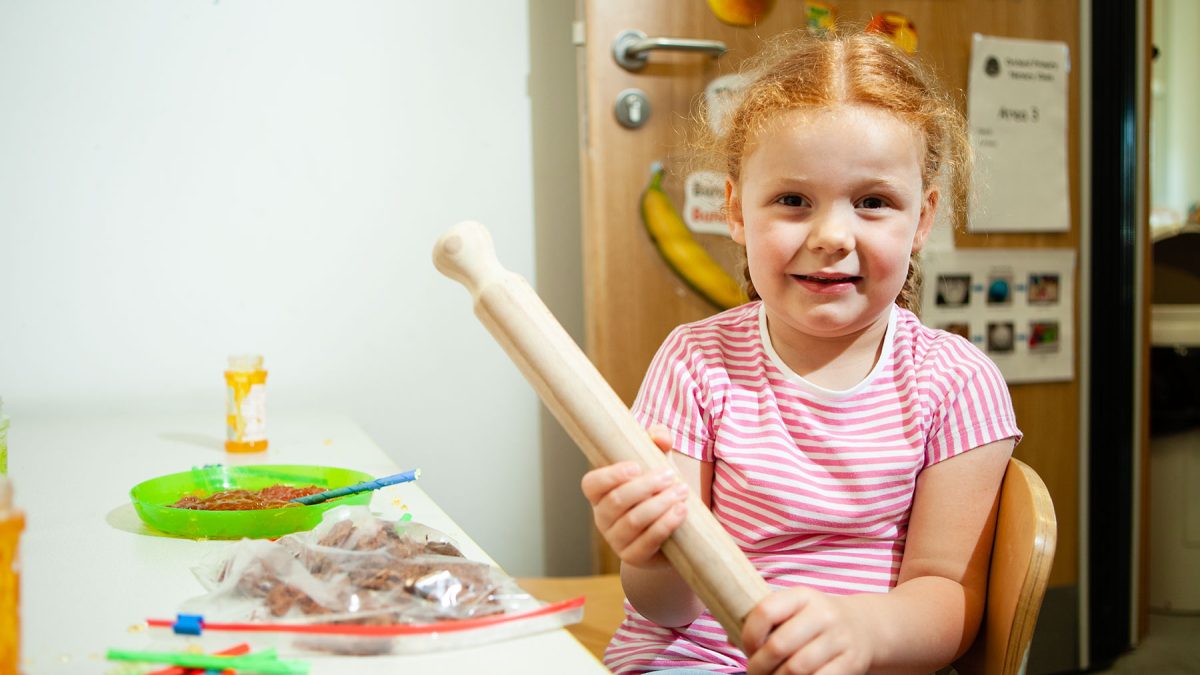 The Start of Our Cooking Skills Journey
About this Guide
This Early Level guide will help you to create activities around the wellbeing indicator of Achieving using the Food and Health section of the Health and Wellbeing curriculum.
Suggested HWB Experiences & Outcomes
HWB 0-30a

Together we enjoy handling, tasting, talking and learning about different foods.
Suggested Learning Intentions
To develop confidence in talking about, preparing and trying new food and drink.
Suggested Success Criteria (I Can…)
HWB 0-30a

Demonstrate simple practical skills when preparing and cooking food, with support.
HWB 0-30a

Describe the different tastes and textures of foods when preparing and handling food.
HWB 0-30a

Select and prepare ingredients to follow a simple recipe, with support.
Suggested Learning Experiences
Provide a range of opportunities for children to take part in practical food preparation and cooking activities and to develop fine motor skills when using cooking utensils. Here is an example of a recipe to use
Investigate how same foods can be eaten/used in different ways to be enjoyed by different people and in different situations eg, eating fruits as they are or making them into fruit smoothie. Children could work in small groups to create a fruit smoothie using everyone's favourite fruit.
Discuss taste, textures, smells etc of their new smoothie 'creation,' and come up with a name for it. They could create some visual images of this new idea to show to everyone. A recipe would help so it could be made again.
Create a snack for a teddy bears picnic e.g. sandwiches, dips, fruit kebabs etc.
Visit the local supermarket and allow the children to select foods for snack. Encourage them to discuss why they chose a particular food or drink.
Match foods that might be eaten together.
Create a fruit salad to allow children to experience washing, cutting and preparing fruit for a simple dish.
Discuss foods they like and don't like when handling and tasting different foods.
Engage in fruit/veg tasting sessions – investigate different textures, tastes, smells etc of different fruit and veg. Record their favourite fruit and use this information to create charts to compare different likes and dislikes of the class.
Suggested Cross-Curricular Links
SCN 0-12a

SCN 0-15a

Investigate the changes that take place when cooking vegetables, pasta, rice; when freezing to make ice-lollies etc.
LIT 0-21b

Create a word wall of common sensory vocabulary eg, crunchy, bitter, sweet, salty, chewy etc.
LIT 0-14a

Develop print awareness through menus, labels, and signs.
MNU 0-01a

MNU 0-07a

MNU 0-10a

MNU 0-11a

MNU 0-16a

Estimate, share, time, measure, sort ingredients to follow simple recipes.
LIT 0-21b

Write a set of instructions to make a fruit smoothie.
Suggested Word Bank
Recipe
Cook
Taste
Touch
Smell
Safe
Prepare
Enjoy
Clean
Equipment
Select
Measure
Likes
Dislikes
Achieve